17-23 April 2015
Kyiv, Ukraine
The gathering brought together women* from eleven countries to learn about topics connected to feminism and environmental justice. Participants shared ideas on strategy building, consensus decision making, campaigning and tools for action.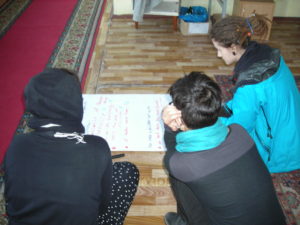 What happened?
The gathering started with background information on the Chernobyl accident and it's impact on the region. After that we examined social and economical impact of the Chernobyl accident on the town Zhytomyr. We spent one day visiting the town, meeting local activists and discussing women's roles in environmental advocacy. With such an introduction as our foundation, we started working more concretely on tools to address numerous problems encountered by women in the struggle for environmental and social justice. The programme was filled with workshops (e.g. on privilege and oppression, campaigning, strategy, feminist self defense, consensus decision making, action training). The week was closed with a fruitful networking session.
Objectives
empower young women to self-organise and enact feminist perspectives

in

environmental justice;

increase knowledge of social and economical impact of climate change;

create strategies for women's voices to be heard in environmental debates;

facilitate women's engagement in environmental activism

increase skills in countering male dominance;

develop safer spaces practices;

networking with environmental activists from neighboring countries.
Outcomes
Some participants joined the Chernobyl accident anniversary action in Belarus.

Participants collected experiences of women in environmental movements which were later presented at an activity in Poland.

The connection between environmentalism and social struggle e.g. women being affected differently from environmental devastation was stressed.

Participants practiced concepts of safer spaces and non-alcohol policy. Two participants formed a working group to introduce the ideas during upcoming activities.

Participants have gained the self confidence to counter exclusion and day-to-day oppression within group processes and will address those issues during upcoming activities.

Participants have shared the idea of an campaign about Monsanto coming to Ukraine and have started a research group with activists from other countries that have been previously dealing with the issue.

A more representative presence of Eastern Europeans and women at upcoming activities has been ensured.
This project was made possible with the financial support of the European Youth Foundation – Council of Europe