20-26 May 2015
Warsaw, Poland
This youth exchange brought together young environmental activists and alternative youth communities to exchange skills in hands-on practical alternatives to environmental injustice and empower the practice of creative approaches to sustainability.
What Happened?
This activity focused on alternatives and developed knowledge and skills among participating groups on how to establish small-scale environmentally friendly communities, for example alternative energy & food systems, small scale self-organised agriculture and community group processes.
The event took place in an alternative garden space in Warsaw. Each day started with a Yoga and Mediation session. The program varied each day in terms of topic and methodology.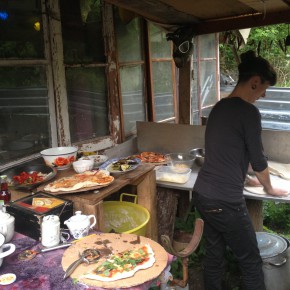 Day 1 (Arrival) During the afternoon participants arrived and started to help making vegan pizza together.
Day 1 (Community & Demo) contained a walk around the alternative garden & living project where the meeting took place as well as the first exchanges between participants on their experiences in their local communities. In the afternoon, participants joined a demonstration and took part to highlight the role of climate change in the current migration crisis.
Day 2 (Bookfair) a bookfair was organised where participants each had a table showcasing booklets, books or any other publications from their local reality about permaculture, alternative communities & environmental justice. The bookfair was public and approximately 80 additional visitors from Warsaw attended.
Day 3 (Group Processes) looked together for ways of sustainable, long-term growth for their communities, discussing topics like consensus & non-hierarchy, anti-discrimination in diverse groups, community accountability systems and long-term strategy considerations.
Day 4 (Food) Both the catering and the hosting community showcased food systems based on environmental considerations, which helped to inspire participants. During this day, participants in small groups build their skills on setting up permaculture based small-scale agriculture as well as environmentally friendly ways to deal with waste.
Day 5 (Energy) participants divided in to small groups, improved their skills in constructing a clay oven and a heating stove. After the practical hands-on workshops, participants connected what they learned in the last few days to the bigger picture of alternative communities and the effort for environmental justice.
Day 6 (Evaluation)
Objectives
Empower the practice of creative approaches to sustainability among alternative youth communities to further develop alternatives based on environmental and social justice;

Exchange experiences of young people on how to establish, develop and maintain alternative communities;

Develop skills in hands-on practical elements of sustainable communities;

Display examples on how European youth works cooperatively to create sustainable futures.
Outcomes
Empowerment of organizational capacity among local Warsaw based groups;

Participating communities are enabled to put more environmental sustainability in practice;

An alternative library project in Warsaw was launched during the bookfair that will continue to disseminate booklets and other publications on donation;

Increased capacity of participants to reach out to society outside their communities to promote environmental sustainability;

Alternative communities from around Europe networked with each other and are able to continue cooperation.
This project was made possible with the financial support of the European Youth Foundation – Council of Europe.