13-19 July 2015
Vitoria-Gasteiz, Basque Country
This international anti-fracking gathering brought together youth from ten countries to empower each other to push for a Europe-wide fracking ban and to challenge other false energy solutions presented in their different local contexts.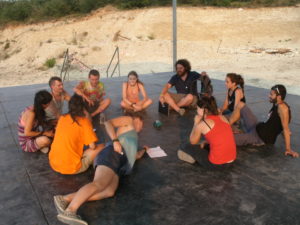 What happened?
The gathering started with background information on peak oil and climate justice to set up common ground and a common vocabulary amongst participants. After that, diverse strategies and tactics were shared from the different grassroots youth activist groups. Then we held an international round-table, which helped contextualize the camp and gave space to the local anti-fracking activists of the Basque Country to describe the key elements that led up to the new fracking ban in the region. From there, the group was inspired to work tangibly on future collaborations and alliances towards banning fracking everywhere else in Europe. The week closed with a fun and celebratory march to the center of the city, publicly disseminating our now clearly articulated challenges towards false energy solutions, and fracking in particular.
Objectives
empower youth activists in challenging unsustainable practices and environmentally unjust projects with a focus on promoting a European-wide ban on fracking;

help articulate a European-wide discourse that places environmental justice back in the public opinion and political agenda;

present examples of sustainable living during the camp;

practice tools that young activists can use to challenge environmentally damaging projects.
Outcomes
Newly created network of European anti-fracking groups aimed at sharing relevant information from the groups' various local and national contexts and at serving as a solidarity and mutual aid structure

The local group hosting the camp enjoyed testing their newly acquired renewable energy equipment, and plans to provide such a service at regional activist gatherings in the future.

Through this project, 2 publications on environmental justice and one video have been produced.
This project was made possible with the financial support of the European Youth Foundation – Council of Europe.