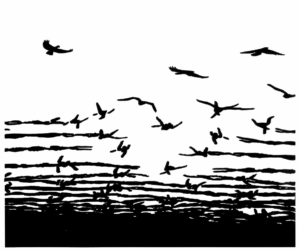 An estimated 1000 riot police will decend on Calais at the  beginning of April for what will be the biggest mass eviction of migrants in the city.

Since the closure of the Red Cross camp at Sangatte in 2002, people trying to cross to the UK have made their own makesehift homes in and around the city. This has given rise to regular and sustained police harassment, ending in violent evictions. Currently there are 6 known camps – or jungles – one squatted factory (known as Galloo) and a squatted house, home to an estimated 1200 people, mainly from Sudan, Afghanistan, Syria, Eritrea and Ethiopia.
The authorities have informed residents of the jungles and squats that they must move to the site of an old rubbish dump / wetland some 7 km outside of Calais, or face forced evictions once more. The new site does not have any facilities for daily life, and will create a ghetto of people, currently living in their own organised communities, raising fears among them of fighting between communities. Furthermore, it will place people in an area out of the city controlled by mafia smugglers. The site appears like another step towards the apartheid of migrants out of town and out of sight,  in the heart of Europe.
Few see this as a choice, yet faced with the option of moving or violence, many have chosen to move. This 'silent eviction' began on 26th March when those staying in a house for women and their children – some 40 people – were moved to this centre. The 'silent eviction' has continued since, and a new camp is emerging at the site near Jules Ferry. Nonetheless, some – particularly those in the squat Galloo, are chosing to stay where they are.
The evictions are opposed by residents of the camps and squats, and by organisations and groups in solidarity with them.