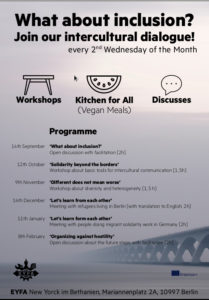 Join us next week – on Wednesday, 14th September – as our new EVS volunteers kick off their workshop/discussion series "What about Inclusion?" at NYimB.

What about inclusion?'
Open discussion with facilitation, 19:00-21:00
We are starting our monthly event series with an open discussion, everybody is invited. We want to talk to you about our agenda, also get to know your needs and expectations. Let's create a space, where we all can feel comfortable enough to share and learn form each other. The main topic is inclusion, but it sounds unclear, right? Together we can wrap it up, check what it stands for; is it an empty slogan or a real core value? Do we have any definitions or assumptions we relate to 'inclusion'? Can we find common ground? Are we, actually, inclusive? All questions are welcome, no answers are promised, the belief in discussion is there.