For all who care about the topic of war and migration. For these, who spend their time next to computers and others screens following, commenting, posting and disputing about the politic, social and economical problems and challenges we face in our times. For engaged, motivated and efficient activists in order to improve their skills in fighting for social change.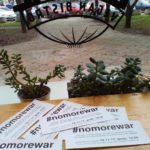 But if you still do not feel convinced come anyway! We will talk about social media, its advantages but critic as well, we will share our perspectives on war and migration and discuss strategies in building alliances and solidarity based connections.
18.11.2017 we are meeting at 5 pm with students of Alternative Educational Space (Pulawska 37), the event is open and will focus on youths' experiences with social media campaign.
19.11.2017 at 7 pm we have a space reserved in LVB (Krucza 23) to talk in the informal atmosphere with vegan snacks.
Both evens are open, no registration, no fees, in Polish, but English translation is available.