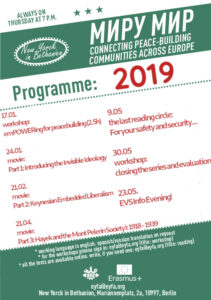 Check the new programme of EYFA 3 volunteers for 2019.
Always on Thursday at 7 pm. Sometimes with KUFA or vegan snacks. Never boring.
17.01
workshop: emPOWERing for peacebuilding (2.5h)
24.01
series night: Part 1: Introducing the Invisible Ideology
21.02
series night: Part 2: Keynesian Embedded Liberalism
21.04
series night: Part 3: Hayek and the Mont Pelerin Society I: 1918 – 1939
09.05
the last reading circle: For your safety and security… (Anonymous)
23.05
EVS Info Evening!
30.05
workshop: closing the series and evaluation
We believe that non-formal education, based on skill sharing in an international surrounding and peer to peer exchange will help us to build together a safer space and friendly atmosphere to share share our experiences of surviving war or living under the infringement of democratic rights and freedoms and reflect on core European values as freedom of expression, respect for diversity, democracy and prosperity. We also see this focus on peace-building as a part of long-term change, which leads to inclusive, multicultural and sustainable communities and societies, equitable for all.
* working language is english. spanish/russian translation on request
* for the workshops please sign in: eyfa@eyfa.org (title: workshop)
* all the texts are available online. write, if you need one: eyfa@eyfa.org (title: reading)