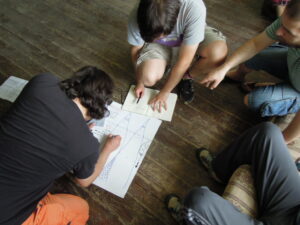 The first workshop in 2019 facilitated by EYFA EVS volunteers will take place on next Thursday – the 17th of January at 7p.m. in New Yorck in Bethanien. Title: emPOWERing for peacebuilding (2.h).
Feminism and women's empowerment have the reputation of being unfriendly to men, or "anti-male." Overcoming these stereotypes is essential for understanding how men and women can and must work together in peacebuilding. Women's "empowerment" has come to mean everything from not discriminating against women, to actively including women, to creating whole new communities and nations that are geared equally to the needs of men and women. This session explores a variety of different ways of understanding women's empowerment and gives participants an opportunity to discuss what women's empowerment for peacebuilding requires in their communities.
We believe in non-formal education, skillsharing and peer to peer exchange, which help us to build together a safer space and friendly atmosphere. We are more than happy to have your feedback, we are still learning.
The working language is English, but we offer translation into Russian and Spanish. Also coffee, tea and snacks. Suggestions? Comments? Write us on eyfa[at]eyfa.org (title: workshop). Sign up beforehand to help us planning the exercises.