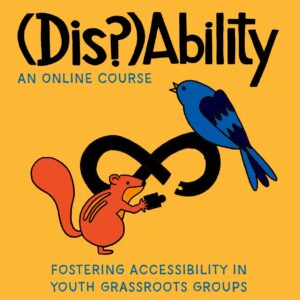 (Dis?)Ability: An Online Course Fostering Accessibility in Youth Grassroots Groups
Introduction
What?
(Dis?)Ability is an online course that explores ways to increase accessibility in activism and event organising. The course is divided in 5 lessons that tackle topics such as accessibility, inclusivity, disability justice, privilege and oppression in youth activist movements. It also aims to create a space to reflect about self-organized events and spaces in terms of access and inclusivity. These lessons will provide tools to challenge existing barriers in these spaces and to incentivise a move towards dismantling them.
For whom?
The content of the course was created for and by youths in grassroots groups, along with people experiencing limited access to activist spaces, due, for example, to disability or illness. It is thought for people that are actively involved in activism and event organising, and that wish to make this practice more accessible and inclusive.
How?
The course consists of 5 video lessons that are accessible through our website without the need of previous registration. There will also be no tests or grading of any kind. Each video lesson will have subtitles in different languages and there will also be a downloadable PDF transcription of the entire contents of each lesson.