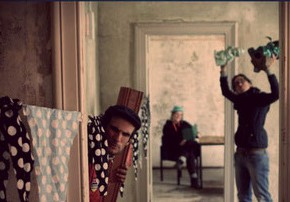 Brandenburg, Germany. 22 – 30 November, 2015. Deadline is extended!
Background of the project
The idea to organize a training course, aimed to promote active and participative citizenship through sharing the knowledge and experiences of self-organisation and exploring the different methods for group work, came based on the need of sharing the common urge to look for place where the daily meaning of activities is visible, the work is more than an a forced activity, the organisation's work is coherent with its values, there is a place for own reflection, feedback and ideas, the decisions are transparent and collective, everyone can affiliate with the goals of the organisation.
As there was not such a place for us in the established structures, thougth Kulturlabor Trial&Error decided to explore how the terms "work" and "money" correlates in our society, what place in the so called job market the young people have, how to reach a sustainable impact, respect the environment and people around as well as how to work in a horizontal and inclusive structure, giving each team member an equal chance to become an initiator, what kind of tools are to maintain an organisation effectively and sustain it both financially and resources-wise.
Training course objectives:
To reflect on organisational structures, working methods and to exchange experience with likeminded people through sharing the knowledge of self-organisation
to establish/ignite cooperation/international network of self-organised collectives
to experiment with ways of managing a collective, including such topics as decision making process, coherence of values, leadership styles, team dynamics to activate a entrepreneurial spirit
to integrate methods from the field of creative activism in the training process and stimulate creativity
to document and share the training process and conclusions
to evaluate organisation's working approaches towards dealing with target groups/community, reconsider internal and external values and learn about ways to sustainably develop a collective.
Participants
We expect to meet 25 participants from Germany, Spain, Hungary, Slovenia, Serbia or Finland.
All participants selected for this project should meet the following criteria:
member of already established youth collective, which aimed to work with/for community urban or rural) and strive for emancipation of those communities in socio-political, ecological or entrepreneurial domainsor, or in process of founding one
understand and affiliate non-formal, horisontally organised, independent, locally integrated youth work
highly motivated to learn and share about issues tackled in the training course
are available for the whole duration of the training
Financial and practical conditions
Food and accommodation during the training course will be fully covered.
Travel costs of international participants will be cover based on the actual expenses up to 275Euro/person.
Application procedure
Application form is attached here. Please send the application form as a mail attachment to until 15th of September 2015 to mariiaservetnyk [[ @ ]] gmail.com.
Applicants will be informed about their acceptance within 2 weeks.
If you have any questions regarding the project and your application, don't hesitate to contact us.
Kulturlabor Trial & Error