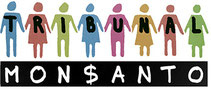 The Monsanto Tribunal, an international civil society mobilization to hold Monsanto accountable for crimes against humanity and ecocide, will take place 14-16 October 2016 in The Hague, Netherlands.
The organizing committee invites your organization to take part in this important event. We are organising both a Tribunal with testimonies from victims of Monsanto's products and business practices, and a parallel People's Assembly for social movements to rally together and plan for the kind of future we want.
This event is initiated by a broad organising committee with prominent members like Marie-Monique Robin, Olivier de Schutter, Vandana Shiva, Hans Herren, André Leu, Corinne Lepage, Ronnie Cummings and Gilles-Eric Seralini. The initiative is supported by more than 100 organisations so far, including La Via Campesina.
The Monsanto Tribunal is unique in several ways. It is presided over by respected judges from around the world, who will deliver a legal opinion on questions posed to it by our legal advisory team. Following the procedure of the International Court of Justice, the judges will hear pleas from practicing attorneys, as well as expert testimonies, and the testimonies from victims affected by Monsanto's chemicals, its patents on life, and its industrial agricultural practices.
The aim of the Tribunal is to highlight existing legal tools – and legal gaps – for holding transnational corporations accountable for their crimes. Should the Tribunal conclude that Monsanto has violated human rights or humanitarian law, communities around the world can use its legal advisory opinion in cases against companies like Monsanto. Importantly, the Tribunal will contribute to growing debates about recognizing "ecocide" (crimes against nature) in international law.
The success of the Tribunal depends on the moral and financial support from as many people and organizations as possible. We ask your organisation to help in one or more of the following ways:
Support the Tribunal by signing your support online at www.monsanto-tribunal.org/sign-org/
Post a Monsanto Tribunal banner with a link to our website and web-TV channel on your organization's website. (banner on dashboard of our website).
Forward this message to other organisations in your network.
Send this message to all individuals in your mailing list.
Post this message on mailing lists of campaigns you are involved in.
Write about the Tribunal in your newsletters, on your website and in social media.
Like the Monsanto Tribunal on Facebook and share our posts.
Follow us on Twitter @monsantotribun and Tweet about the Tribunal.
Join us for the People's Assembly in The Hague (see attached event proposal form).
Organize events where you live, like viewing parties (of our live-stream), local seed exchanges, and the March Against Monsanto on 16 October, World Food Day.
Propose cases, complaints, and potential witnesses for the Tribunal to claims@monsanto-tribunal.org
We need your help to make this event a success.
Don't hesitate to contact us in case of questions, remarks or suggestions.