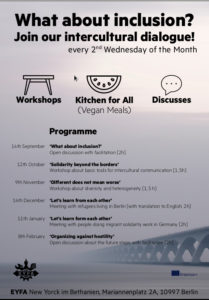 Final edition of 'What about Inclusion?' of 2016! We've got and informational meeting planned for sharing experiences. Looking forward to seeing you there! Come early for delicious food at 19:00.

'Let's learn from each other'
Meeting with refugees living in Berlin [with translation to English, 2h] will start after food has been served, approx. 20:00
At this meeting our wish is to create space for people, from whom we can learn, whose voices we have to hear. Keeping in mind our topics: inclusion, intercultural dialogue, diversity and solidarity let's take a lesson from others' experiences and reflections. To be informed, to understand, before organizing anything, is our responsibility. Be responsible, come to our workshop!