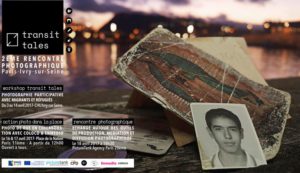 Our collective project with Centro de Foto Documental (Barcelona), , Jungleye (Calais) and the collective Oiseaux Sans Tête (Brussels) is going to Paris this spring for a series of events around participatory photography with refugees and migrants and communication potential. We will keep you posted of our comings and goings!
03/04/17 – 14/04/17: Participatory photography workshop with a group of 15 women asylum seekers in the emergency shelter run by Emmaus Solidarité at Yvry-sur-Seine.
14/04/17: Inauguration of an exhibition of the photographic works from the workshops in Barcelona and Yvry.
16 and 17/04/17, 12h: 'workshop in the street'. Street participatory photography in Place de la Nation, Paris. With Studio Public and Coloco.
18/04/17, 1830h: Presentation, round table and debate. At PictureTank. We will be talking about the participatory photography workshops with asylum seekers in Barcelona and ​​Paris, the various tools used for creation, mediation and photographic distribution of results (Jungleye postcards, OST Logbooks and Public Studio, photographic actions, and the interactive platform of Transit Tales) and having sessions to share between photographers, refugees, activists, migrants, journalists, reception centers, social actors etc.., gathered for a moment to share knowledge and questions about migration and its representation.