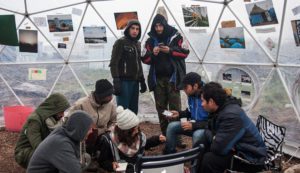 Throughout the so-called "refugee crisis" we have seen how photography can be a powerful tool in shaping public perceptions of "what is going on", which in turn effects public opinion, political discourse and institutional solutions (or the lack of them) .
We believe that one necessary step in the path towards empathy and dialogue is to be presented with the full multidimensional story, not just the usual media portrayals of victims or threatening strangers.
This year we will facilitate the production and visibility of images of these people in transit from their own point of view. Also, we will multiply the effect of our work by compiling and sharing what we learn along the way.
So in 2016-17 CFD (Barcelona), EYFA (Berlin), Jungleye (Calais) and the Oiseaux Sans Tête collective (Brussels) will be joining forces to produce:
Participatory Photography workshops with migrants and refugees in Barcelona, Calais and Germany
An interactive website / platform for dissemination and visibility of these kind of workshops, where the public can browse through different threads of images and stories
Seminars aimed at fostering a learning community between people active in participatory photography and intercultural work with migrants and refugees (workshop leaders and participants, projects, activists, community leaders)
A "good practices" guide about what we have learned
A traveling exhibition of the products of participatory photography workshops with migrants and refugees, to be presented in Barcelona, Calais (April 2017) and Brussels (Sept 2017)
The project intends to be, above all, a tool for facilitating self-expression, dialogue and community. We aim to be an inclusive project and will try our best to be a welcoming environment for diversity.
We also intend to reflect on the "metadata" present when a picture is taken – cultural / ideological and iconographic filters, and situations of power/non power, and how these influence the photo's impact and what it says.
To help this along we have grants from the Barcelona city hall and from Erasmus+. We undertake this project in the hope of contributing towards better public discourses and ultimately policies.
The more the merrier!
If you want to keep you updated write to Bea – cfd[at]cfdbarcelona.com, subject "EN newsletter" and we will send you bimonthly news on what we are up to.
If you have worked in the field of participatory photography/refugee work/ anti-xenophobia communication/ intercultural communication and you would like to attend one of the seminars we will be organising this year fill in this form.
If you want to collaborate, volunteer/help write to us as well cfd[at]cfdbarcelona.com and let us know how you can help.