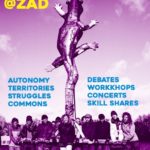 August 27 to September 2, 2018
After the long awaited victory against the airport project, we are trying to lift ourselves out of the brutal spring, a season marked by two phases of evictions in which the government made sure to avenge the affront that the zad had represented for so many years. The massive police operations caused many injuries, the destruction of a part of
the living spaces of the zad and a long military presence. But the state was forced to give up going any further and entirely eradicating our presence in this bocage.
Homepage: https://zad.nadir.org/spip.php?article5976