Миру мир: Connecting peace-building communities across Europe – EVS project is starting!
EYFA 3 volunteers invite you to join the activities they will be hosting in 2019.
Always on Thursday at 7 pm. Sometimes with KUFA or vegan snacks. Never boring.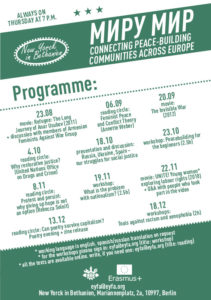 Миру мир refers to a famous saying in both Russian and Ukrainian languages which means 'Peace for the world'. Is not it symbolic, that in Slavic languages words world and peace are homonyms? Take part in our exciting activities to see how can we together build bridges instead of walls. Three young people from Ukraine, Russia and Spain will share with you their reflections about socio-political situation in their countries, interview their guests about migrant and refugee solidarity work and discuss with you the burning issues of our today's world after the screenings.
23.08
movie: Refugee: The Long Journey of Anar Usubov (2011)
+ discussion with members of Armenian Feminists Against War Group
20.09
movie screening The Invisible War (2012)
18.10
presentation and discussion – Russia, Ukraine, Spain – our struggles for social justice there.
22.11
UNITE! Young women* exploring labour rights (2018)
Video screening Q&A with people who contributed facilitated discussion
Sign up for workshops! We want to learn how to facilitate, present the content, organize sub-groups talks and close the meeting, in other words we want to become the trainers. Come, participate, share your opinions and leave us the feedback, that would be the best praise.
23.10
Peacebuilding for the beginners
19.11
What is the problem with nationalism?
18.12
Tools against racism and xenophobia
And for the first time in EYFA-EVS history – a reading circle! Feminist texts (all available online and on demand) about the crucial aspects of peace building – conflict, restorative justice and resistance. No worries if you don't have time to read, come anyway, we take the essays as the starting point to talk about what we think. More proposals are welcomed.
06.09
reading circle Feminist Peace and Conflict Theory Annette Weber
4.10
reading circle – Why restorative justice? (Training Manual on Alternative Dispute Resolution
and Restorative Justice, United Nations Office on Drugs and Crime, October 2007, p. 97-111)
8.11
reading circle Rebecca's Solnit essay Protest and persist: why giving up hope is not an option
13.12
reading circle Can poetry survive capitalism? Poetry evening
We believe that non-formal education, based on skill sharing in an international surrounding and peer to peer exchange will help us to build together a safer space and friendly atmosphere to share share our experiences of surviving war or living under the infringement of democratic rights and freedoms and reflect on core European values as freedom of expression, respect for diversity, democracy and prosperity. We also see this focus on peace-building as a part of long-term change, which leads to inclusive, multicultural and sustainable communities and societies, equitable for all.
* working language is english. spanish/russian translation on request
* for the workshops please sign in: eyfa@eyfa.org (title: workshop)
* all the texts are available online. write, if you need one: eyfa@eyfa.org (title: reading)