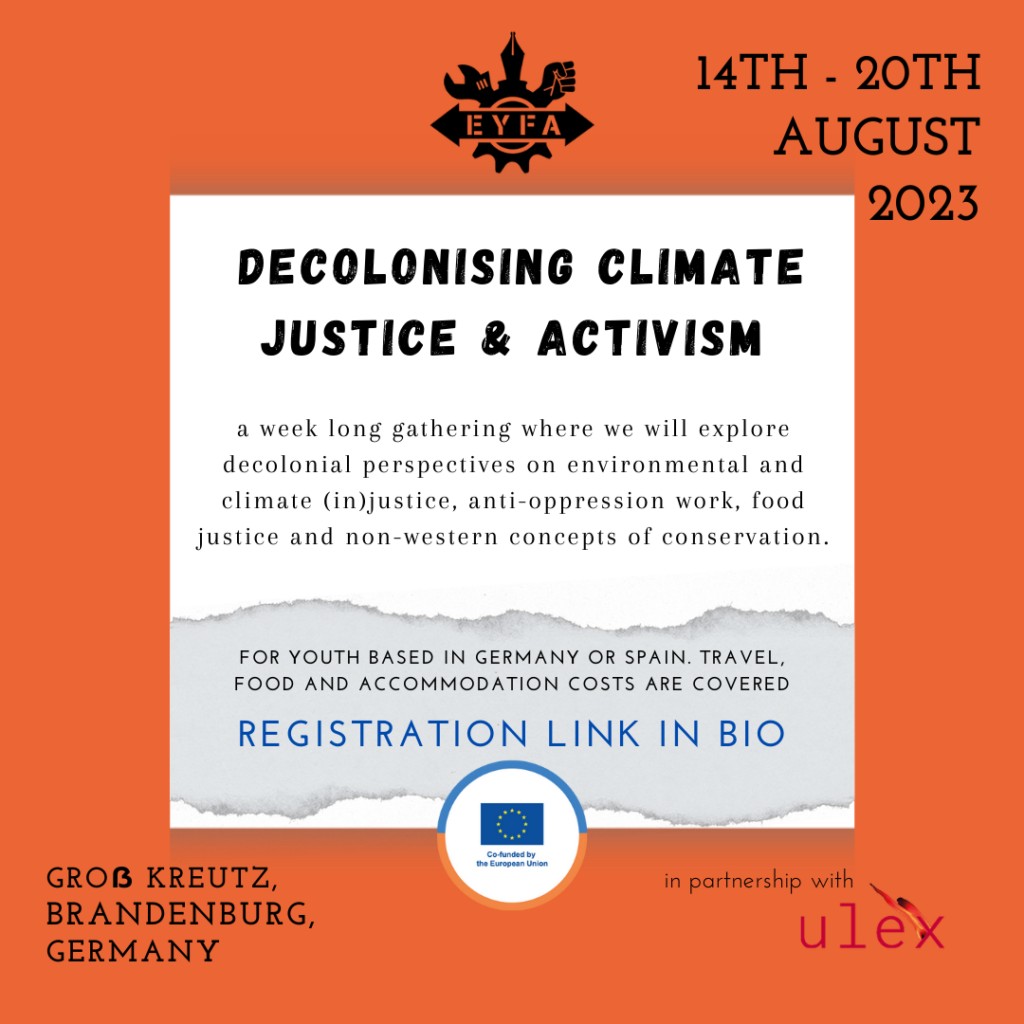 WHAT?
For the duration of one week in mid August, we will dive into the meaning of climate justice in the European context. Through various workshops, games and other activities we'll explore decolonial perspectives on environmental & climate (in)justice, anti-oppression work, food justice and non-western concepts of conservation.
In our week-long journey we will establish a common ground and hopefully dive deeper into these concepts and ideas. We want to dream together and finally build, and plan a follow-up project to strengthen our movements. It is important for us to provide space and time for discussion, reading, socializing, quiet time, observations and reflection.
Our goal is to provide a space where young people within the climate justice movement in Europe can learn with and from one another and foster exchange in order to build resilient and proactive structures. With this we aim to contribute to a movement that is led by the most affected communities and acts motivated by reciprocity and care.

WHO IS IT FOR?
We strongly want to encourage BIPoC* (Black, Indigenous, People of Colour) that have an intersectional experience with various forms of discrimination (e.g. ableism, queer-'transphobia, classism,…) to apply.
The week is mainly designed for people who are passionate about climate justice and (want to) engage in movement spaces. If you are new to these fields, you are still warmly welcome to apply. There is no pre-required knowledge/ experience standards.
Participants must be based in Germany OR Spain.
*This term includes every person, that experiences racism and/or anti-semitismus.
COSTS AND SUPPORT
The whole event will be free of charge for all participants.
* Accommodation & food are covered. Furthermore, there will be a financial travel support based on your location/distance to the venue.
* It is our goal to host a space that is as inclusive as possible and poses little to no barriers to a full participation for everyone. Translation, childcare and individual support will be provided.
The contents of this workshop-week is organized by BIPoCs and a majority of queer people.
APPLY, APPLY, APPLY & KINDLY SHARE 🙂