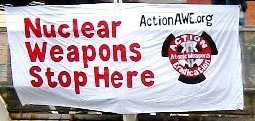 There is an election for the next UK Parliament in May 2015. The new Parliament will be making a final decision on whether to go ahead with replacing the UK Nuclear weapons system. Scotland already has a majority of people against nuclear weapons and with the upsurge in political involvement and several different anti-nuclear political parties to vote for is well covered. HOWEVER, the rest of the UK need a wake up call.

The Action AWE (Atomic Weapons Eradication) campaign (see https://actionawe.org/ ) is organising a whole month of direct actions at Aldermaston and Burghfield, the 2 places where the new weapons systems are researched, build and maintained) in March 2015. Some of these actions are 'secret/hidden' and others are very public.
To start off the month of direct action ActionAWE will be organising a massive blockade of the 2 entrances into AWE Burghfield on MONDAY, 2nd March, starting at 7a.m. and continuing for as long as people have the stamina! This will then be followed by lots of smaller actions throughout March.
We really need the help of the European anti-militarist movement to boost our numbers, get international press coverage of the event and create pressure to only vote for MPs who will resist any replacement of nuclear weapons and instead focus on supporting the international movement to ban all nuclear weapons.
We will be providing safe accommodation.
Contact us at reforest@gn.apc.org