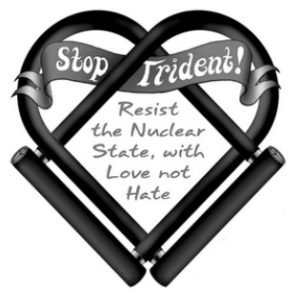 A major blockade of AWE Burghfield – Burghfield Lockdown! – will start on Monday 2nd March 2015 at 7.00am.

Join us in blockading a nuclear arms factory in England 25th Feb – 8th March!
Britain is planning to renew it's expiring fleet of Trident nuclear submarines and the decision for the matter is planned to be made next year. In the case of a favorable decision, Britain will commit to
nuclear rearmament that will last for decades, and in the worst case scenario could lead to a new vicious circle of nuclear arms race. During a time of growing unequality and class differences, climate crisis and
emerging wars and conflicts across the continent, the UK govenrment is ready to commit to the astronomical costs (an estimate of £76 billion or more) of manufacturing and maintaining Cold War style
heavy nuclear arms.
Anti-militarists are organising a mass lockdown at the Burghfield nuclear arms facility on the 2nd of March. The blockade is part of the non-violent direct action and campaigning against a new nuclear arms
program. British nuclear arms are produced, maintained and stored in an Atomic Weapons Establishmet in the village of Burghfield, located near the city of Reading.
Aseistakieltäytyjäliitto (AKL, Union of Conscientious Objectors Finland) is organizing a bus trip to the event from Finland.
AKL has has organised bus trips to protest camps and other non-violent direct actions around Europe since late 1990's. Antimilitarists from Finland have joined anti-nuclear protests in the UK before: in the
nuclear marine base in Faslane, Scotland and by another nuclear weapons establisment in Aldermaston, England, among Burghfield where an international lockdown was organised in 2013.
Previous experience from blockades or other kinds protesting are not necessary for participating the event; an interest in the cause is enough. Everyone has a free choice in whether to join the non-violent
civil disobedience (and receive the possible legal consequenses), and no-one is expected to give reasons for not doing so. AKL wishes however, that everyone participating in the trip would be interested in
supporting the protest in some form.
We will take off from Helsinki on the afternoon of February 25th and return back to Finland on the morning of March 8th. Price of the trip (including travels on the bus with ferry tickets and accommodation
during the trip) is €175 for members of AKL, and €195 for non-members.
You are welcome to join the trip along the route. The bus can pick-up passengers at least from: Stockholm, along the E4, Helsingborg, Copenhagen, Hamburg and the Hague. Price of the trip from Sweden (26th Feb – 7th March) is €150. From other cities on the route please contact us for more information.
Our planned route is Helsinki – Turku – Stockholm – Malmö – Copenhagen – Hague – Calais – UK.
Sign up for the trip and get more information from AKL office:
tel. 040-8362786
e-mail: toimisto[at]akl-web.fi
More info from the website: https://actionawe.org/burghfieldlockdown/