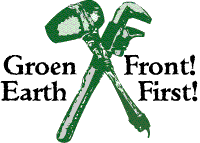 Action week near Groningen. Pick up your tent from the storage, undust your sleepingmat and find back your sleepingback!
We survived the winter and will happily welcome the coming summer with a gathering in the North of the Netherlands.  From the 6th to the 10th of May GroenFront! organizes a gathering, where you can enjoy a program offering pro-active workshops like climbing, discussion themes about gasproduction in the Netherlands, eco-activism and the global struggle over a healthy earth, looking back on almost 20 years of GroenFront!, an expedition into the province Groningen and evenings filled with the smell of campfires and lovely music. Joining in fjust for during a/the day is also completely possible.
Location: Provence of Groningen
Voluntary donation: 5,- a day for the costs we make, plus a donation for the food.
Program (to be updated).
Wednesday:
Welcome from 16:00 with in the evening a cultural/informative programming
Thursday:
Workshops and a cultural/informative eveningschedule.
Friday:
Workshops and a cultural/informative eveningschedule.
Saturday:
Open theme 'action' day
Sunday:
Slowly waking up, have a good breakfast, pick up your stuff and getting back home.
Volunteers
The gathering itself is organized by volunteers and people who support it. This means we can use every extra helping hand when possible. During the camp there are several different jobs to be done. Like dishwashing and playing the bartender.
Camping
Do you want to stay over with your tent, cool! Please do send us an email at: actieweek[at]groenfront[dot]nl. We want to offer everyone a place with her/his tent, and for that, we need to know how many people will approximately join. Also because of the fact we have a limited amount of places for tents.
We will update the program and send out more and other information soon! If you want to stay updated, subscribe yourself by sending us an email to actieweek[at]groenfront[dot]nl. You can also use this email in case you have any questions. If you have a Facebook account you can also sign up here and you will recieve regular updates via the facebook eventpage.
Organizing an actionweek takes a lot of time and energy, this is why we are always very happy with a helping hand. Also we will be very happy with all sorts of donations, like paint, bedsheets and old wood for the campfire or to build with. If you want to help out or have something to offer, please contact us via actieweek[at]groenfront[dot]nl!
GroenFront!
https://www.groenfront.nl/