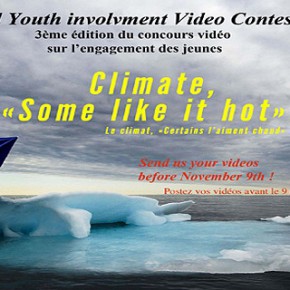 European Video Contest "Climate, some like it hot?" … What about you?
Description
The first edition of the video contest was initiated in 2013 by the French Agency Erasmus+ Youth & Sport; its third edition in 2015 focuses on environmental issues and climate change. Climate changes and sustainable development are clearly the key issues leading up to #COP21. The EVS Film Festival offers a creative way to exchange ideas about civic engagement. This video contest will take place online, relying on social networks and a dedicated page. Competing films can be shot with any kind of camera or a mobile phone and can consist of one or several edited sequences. It is also possible to make the film in stop‐motion, time‐lapse or animation. Soundtracks and images used must be royalty free. Films must be in French or English.
Eligibility
This festival is open to any person residing in Europe (including both Programme countries and Neighboring Countries), between 15 and 35 years old. The current or former participants of the European program Erasmus + are strongly encouraged to take part.
All practical information about the video contest (participation modalities, rules and regulations, prize list … ) are available online on the EVSFF webpage : https://bit.ly/1WI17AW  / En francais : https://bit.ly/1VyVeIV
Contact : evsfilmfestival@gmail.com
The contest closing date is November 9, 2015.