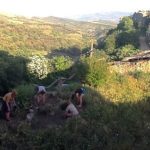 'The refugee situation is the most important moral and humanitarian crisis we face today'
The Borders residency aims to build capacity in organisations and movements working within the refugee crisis and to strengthen the network across Europe. The Eroles learning for action centre in the Catalan Pyrenees specialisesin participatory learning methods and creative tools for systemic change.
Radically thinking as a species: Promoting inclusion in our towns and neighbourhoods [3 – 10 – 17 July] Join us for 1 or both weeks.
The thinking as a species programme is an invitation to think widely and look systemically at the symtoms, structures and mental models that sustain our beliefs about this crisis. Fear of the unknown, focus on difference, and a culture of separation is leading to racism and a misled narrow analysis of the root causes of the current crisis. This programme offers an opportunity to rethink the narratives around migration and refugees in order to design transformative campaigns and projects in our home towns and cities that will change the way we invite people to share our collective human experience.
Creating Resilience [7 – 14 – 21 August] Join us for 1 or both weeks.
In the first week of this programme we focus on ways of dealing with oppressive experiences using Theatre of the Oppressed, introspective tools, conflict resolution, the work that reconnects and emotional resilience. Our experience and research shows that people working at the frontline of social and political situations are often at great risk of suffering from burnout. The second week of the programme will be dedicated to understanding our patterns of burnout as well as drawing out and strengthening internal skills and external factors that can help prevent burnout. We will explore various methodologies to sustain us in our daily lives, and to use when working with others who need support with their well being.
A camp as if people mattered [28 August -18 September] Become part of a collective.
How does it look to develop, run and document a pilot project that embraces the true complexity of the crisis? We are looking for people to co-create a new participatory journey with Eroles Project where we look realistically and innovatively into the systemic situation of migration. Camps have the spirit, principles, infrastructure and mindset of short term solutions. But they have turned into long term limbo spaces for many thousands of people, a new form of city that limits the hopes and expectations of their inhabitants. While many humanitarian and civilian organisations are focusing on basic needs, we want to explore a project around culture, politics, self realisation, enlivenment and innovation designed with and for refugees living in a European camp.
For more details about the project, programmes and application check the website: https://www.erolesproject.org/