Welcome everybody to Finland in nice time for actions!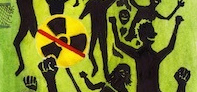 • What's this action week all about?
• Fennovoima-Rosatom nuke stuff: what's that all about?
• Schedules and infobits: how to get here, accommodation etc.
• Partners and co-organisators of the event
What's this action week all about?
Reclaim the Cape is a charmingly crazy and madly brave try-out to introduce slightly different methods of civil disobedience, difference-making and expressing one's opinion's to Finnish mental landscape. The anti-nuclear protest camp at Pyhäjoki brings in a
full-blown action week and a classical day of action, with a just as classical case of mass civil disobedience to go with it. We are aware of the ways mass civil disobedience have been used in other corners of the world before; and even if we do say so ourselves, we do think that if it's possible to flood a Belgian gmo-field, a German nuclear missile base or hop over the fences of Europe's biggest military exercise area – it should not be exactly impossible to take over a planned nuclear power plant construction site behind a one simple fence.
We respect and practice the diversity of tactics. On that field, the combination of an action week and one set act of mass civil disobedience provides an – well, in-built diversity. Whether you're interested about an easygoing low threshold action for a first-timer or something more colourful for a well-running smaller affinity group, this week will provide you with a terrain for everything.
Fennovoima-Rosatom nuke stuff: what's that all about?
Fennovoima is a Finnish nuclear power company established in 2007 by a consortium of Finnish power and industrial companies thinking it's a mighty good idea to put up a nuke plant at Pyhäjoki, a small municipality at the west coast of Finland. The project nearly faced its much wished-for doom when German energy giant E.ON, the main investor of the project at that time, decided nuclear power is bad business and withdrew its money in 2012.
Rosatom is Russian state corporation: it's the only vendor in the global markets that offers the nuclear industry's entire range of products, both civil and weapons. It's led in an authoritarian manner by a nine-person strong supervisory board, elected single-handedly by President Putin – and naturally, famous for projects riddled with mafia connections, massive delays and accidents.
To learn more about the camp check: https://fennovoima.no.com/
For questions about the camp: stopfennovoima (at) protonmail.com