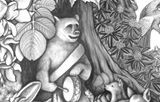 A mobilization tour for Ende Gelaende and the Climate Movement, 13th to 21st April

Enjoy an interactive presentation with the impressive artwork of the Beehive Collective and get fascinated on the stories about beauty and destruction, big coal and resistance!
Climate change is damn real and we are all in it together, being a part of the cause as well as the consequences. But most of us fail to explain its dramatic complexity to people around the globe to get the greed fossil economy stopped. With their impressive art-based project, "The True Cost of Coal", a 5 to 2,50 meter huge mosaic poster, the Beehive Collective tells the complex story of coal and industrialization, the story of the land and the miners in the coal-mining region of Appalachia (USA) and worldwide. "The True Cost of Coal" depicts an endless amount of our own connections to coal and how deep it is rooted in our society. At the
same time, the banner celebrates the diverse history of organized resistance, the courage of communities and the struggles for land, livelihood and  self-determination. After all, it is also about the future, about alternatives, remediation and regeneration. The beautiful story-based graphics inspire many people around the world to take action on saving the land, the people and the planet we love. There will also be stories about coal- mining in Germany and the growing resistance movement. The two trainers are part of a self-organised europeanwide network of highly engaged educators and activists working with "The True Cost of Coal".
13th April LUND: Information about Ende Gelaende and Climate Activism at Human Ecology Department (Room Världen, Geocentrum I, Sölvegatan 10, Lund University) from 10 to 12 am


14th April LUND: Presentation at Lund University (for students of human ecology) in Sky High, Human Ecology Department from 1 to 4 pm


14th April LUND: Presentation at Stencrossen (Kastanjegatan 13-15) at 7 pm


15th to 17th April LUND: Weekend- Multiplication Workshop on the True Cost of Coal
From Friday 3 pm to Sunday 3 pm at Stenkrossen (Kastanjegatan 13-15)
In this intensive three-days workshop we will go in the depth of "The True Cost of Coal" and learn more
about the background, themes and stories inside of it. You will learn how to use the banner for interactive
methods and your own presentations and learn useful skills for telling good, fascinating stories.
Supported by Akademiska Föreningen
18th April STOCKHOLM: Presentation at Kulturhuset Cyklopen
(Magelungsvägen 170, Bandhagen) at 6.30 pm
21st April KIEL: Presentation at Alte Mu (Lorentzendamm 6-8) at 7 pm