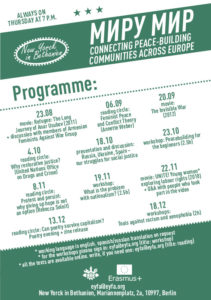 The second workshop facilitated by EYFA EVS volunteers will take place on next Thursday – the 19th of November. Title: What is the problem with nationalism? (2.5h)
Workshop goals:
1. Common understanding of nationalism.
2. Analysis of the negative impact and consequences of national identities.
3. Critical reflection on internalised attitudes and behaviours.
4. Designing personal and collective action to counter the negatives of nationalism.
We believe in non-formal education, skillsharing and peer to peer exchange, which help us to build together a safer space and friendly atmosphere. We are more than happy to have your feedback, we are still learning.
The working language is English, but we offer translation into Russian and Spanish. Also coffee, tea and snacks. Suggestions? Comments? Write us on eyfa[at]eyfa.org (title: workshop). Sign up beforehand to help us planning the exercises.