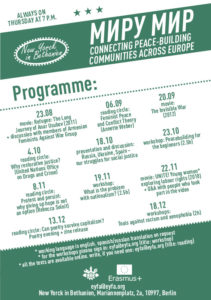 The second workshop facilitated by EYFA EVS volunteers will take place on next Thursday – the 19th of November. Title: What is the problem with nationalism? (2.5h)
Workshop goals:
1. Common understanding of nationalism.
2. Analysis of the negative impact and consequences of national identities.
3. Critical reflection on internalised attitudes and behaviours.
4. Designing personal and collective action to counter the negatives of nationalism.