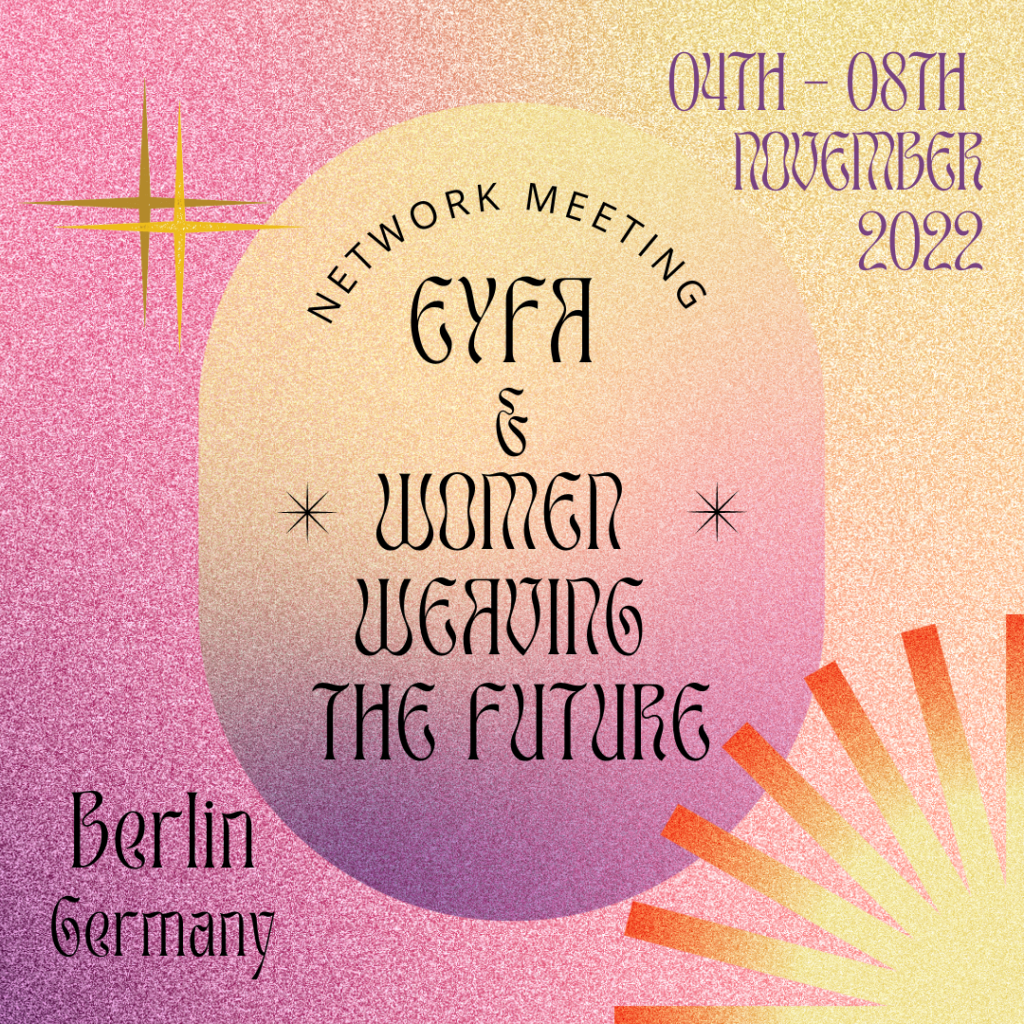 EYFA NETWORK MEETING 2022
WHO ARE WE?
Hello EYFA network people everywhere and beyond,

We, EYFA, would like to start by introducing ourselves and our work for those who still don't know us. EYFA developed from a tour that was initiated by a Swedish/German group in 1986 to save the old-growth forests in Europe: then named European Youth Forest Action. From these beginnings, EYFA has developed into a network of individuals, grassroots organisations and collectives working to transform local and international communities in their approach to environmental and social, political and economic positions.
EYFA provides a platform and practical support for new radical ideas to grow into their full potential.
The international office located in Berlin coordinates EYFA's activities through administrative and communication functions and being the network's contact point for sharing local information.
EYFA focuses particularly on intersectional youth-initiated activities and projects. EYFA projects are mainly for young people, giving them the opportunity to act and encouraging them to participate actively on local and international levels.
The time for another Network Meeting is soon approaching us once again. Unfortunately, due to the pandemic, the Network meeting did not take place in 2020 and neither in 2021. This year we are back and we would like to, just like in 2019, have our meeting in a bigger event, where we can have the chance to meet other people / groups who are working on campaigns and initiatives that might be new, exciting and/or inspirational to us!

In 2019 we have joined the KlimaCamp in Rheinland. This year's chosen event is 'Women waving future', an international conference that will take place in Berlin. The conference will bring together women activists from different corners of the world, based in Europe and beyond and will be a space for sharing experiences, stories of resistance, struggle and passion. Via intersectional lenses we will be able to understand better the different challenges women face and it's inter-connection with multiple struggles, such as: gender, class, race, health, education, displacement / forced migration, motherhood, war, ecology / climate justice. Applying an multi-generational approach, we would like to make a direct link to current struggles around the globe and it's impact in young women and girls.
Let's learn together how to fortify our support networks, learning from elders and super women that are at the forefront of global social change.


When:
November 4th, 5th, 6th, 7th and 8th (arrival on the 4th)
Where:
Technische Universität, Berlin, Germany (5th – 06th)
New Yorck im Bethanien, Berlin, Germany (7th – 08th)


Aims:
Team building
Expanding network
Share our believes and main focus and the intersections of our fights / community building approaches
Collaborations and how could we work together
Who is coming?
We would really like it for new people to come to this years meeting and for this we want to reserve at least 8 spots for new members/new comers.
Food for Thought
Building an international network is an ongoing task. We do our best to keep in touch and be open for new people. We write and write and write (newsletter, reports, emails, notes) and sometimes we meet. The network meeting is one of the few occasions to see each other in person, that is why if you feel like engaging in the network, reflecting on our current work (to make it better), being/joining the orga group, spreading your ideas or initiating something, or you are simply wondering what is the network, – you should come.
Most of the invitations here are reaching out to groups rather than individuals, in the hope that it will help us meet the meeting aims, and that it could simplify the invitation process. We offer 1 to 3 places per group and we want to reserve 8 spots for new people. We want to acknowledge that sometimes people's commitments go beyond one group, and therefore some individuals may be invited through more than one group. At the same time, we are inviting a handful of persons who may not subscribe to a group active in the network but who have put their heart and soul into it lately.
There is a rough plan for the program's content, thinking that maybe this meeting is a good opportunity for you to talk about something with others, share your skills or fears (yes, this world is scary). Or you see there is something missing in the aims above? Write us. If you have any suggestions for the program, would like to add something to it, etc, please write us with your ideas. The more input the better to make this meeting fruitful for all of us.
Important: if you need a visa to come to Germany please let us know ASAP, so we can help you with the invitation and finances.
Expressions of interest to be sent to 2022@eyfa.orgas soon as possible, till the 10th of October. Questions, suggestions are welcome any time.
Please note, that the network meeting is only one element of the long and beautiful process of keeping the network strong, there are other ways to be active within it and we try them all. Do not be sad if you cannot come, there will plenty of opportunities to join us again.
Looking forward to hearing from you!
EYFA Office
Confirmation deadline: October 10th
How much: The Network Meeting is free of charge. Eyfa will provide the accommodation in a hostel / hotel and in shared rooms at our Berlin based member's home. Food will be provided. If you need support covering your travel expenses please contact us!!!