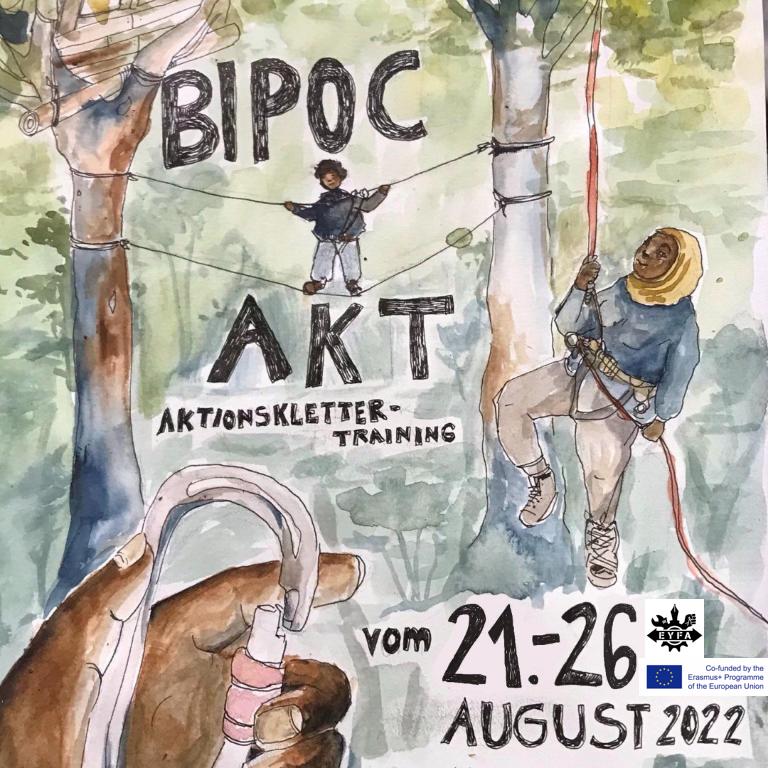 Warm invitation to the Action Climbing Training (AKT) for BIPoC (Black, Indigenous, People of Color) People effected by Racism/Antisemitism from August 21-26, 2022 in a forest near Cologne
What is an AKT?
AKT stands for Action Climbing Training. Climbing skills needed for tree climbing and climbing structures are shared in order to be able to implement political actions like banner drops, blockades and much more. Our 6-day intensive training includes all the important basics of technical climbing needed for actions including: Introduction to materials, knot tying, ascending trees with and without ropes, rappelling techniques, belaying techniques, moving at heights, installing and removing ropes, rescue, rope bridge construction, horizontal moving on the rope, rope assisted hanging of banners, action planning and scouting concerning climbing, 1st aid.
Where?
Close to Lützerath, when you register there is more information on the exact location. We are trying to organize a shuttle from the next train station.
There is the possibility to camp, an outdoor kitchen as well as sanitary facilities to let the event take place mainly outside.
If you have other needs regarding sleeping space, please contact us and we will find a solution!
When?
BIPoC AKT will take place from August 21-26, 2022. On July 21, arrival is scheduled for late afternoon. So we will start the program in the evening after the first dinner together. The AKT will end in the evening on August 26. It is important to be present for the whole period. Therefore, please register only if this works for you.
If you would like to stay longer in Unser Aller Wald or Lützerath, please contact us and we can arrange a contact.
Who is the AKT for?
This training is for Black, Indigenous and People of Color. This means all people affected by racism and/or anti-Semitism. It is aimed at anyone who wants to be active in political climbing action and/or has a desire to pass on climbing skills to political activists.
It is aimed at BIPoCs with and without previous experience. But it is important for us to emphasize: You don't need any prior experience! We start from scratch. Even specific climbing equipment is not a prerequisite. Climbing is certainly emotionally and/or physically challenging for many people. Fear of heights, physical limitations, learning difficulties or similar are not directly exclusion criteria! If you would like to participate but have concerns, please contact us. This way we can think of alternatives and you can come to the training encouraged!
Feel free to write your questions or concerns to: bipoc-actionclimbing@riseup.net
You can also register via this email address. We are looking forward to your registration (with name) ((and pronoun)) and will contact you shortly with further information.